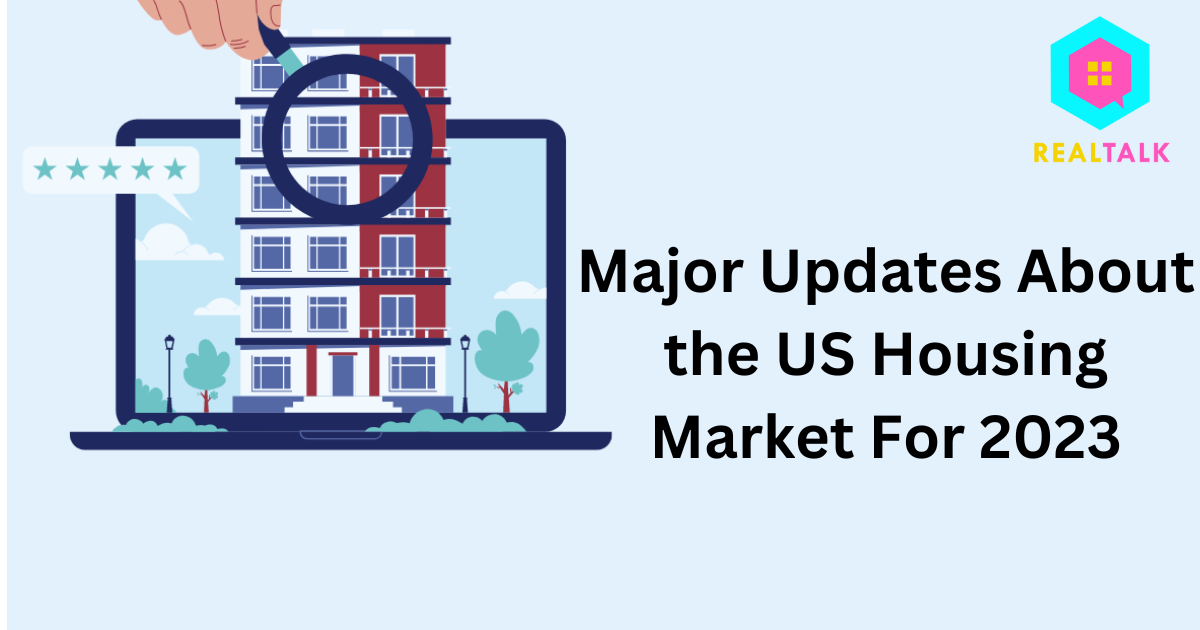 Major Updates About the US Housing Market for 2023 that Every Realtor Should Acknowledge
The housing market continues to attract much interest and attention, especially for Realtors and real estate agents everywhere. The housing market witnessed notable trends and developments in 2023 that have impacted buyers, sellers, and industry professionals. This blog post will delve into the latest news and insights about the US housing market, highlight key statistics, and discuss the implications for real estate professionals.
Trends Shaping the US Housing Market in 2023
According to the Forbes report, home prices are not as high as the record prices of June 2022. But then whether the home prices soar high or dip this year would depend majorly on the Property region.
1. Rising home prices Despite limited inventory and strong market demand, the US housing industry has steadily increased prices. According to the National Association of Realtors (NAR), the number of existing homes increased in May 2023 to $350,300, approximately 15.2% from the previous year; without a doubt, this trend poses a significant challenge for many first-time homebuyers.
2. Inventory shortages It's becoming harder and harder to sell houses, as we've seen in the past from previous market conditions. So according to Redfin data, active listings have shown that they have declined by over 27.4% from May 2022 to May 2023. This scarcity of inventory raises prices, creating a highly competitive environment for buyers.
3. Mortgage rates Mortgage rates remain stuck between 6% and 7%, with the 30-year fixed mortgage rate reaching 6.79% on June 1, 2023—the highest it's been since November 2022—before dipping down throughout the month to 6.67% on June 22, 2023.
4. Millennial homebuyers The US housing market has become more attractive to millennials in the past, and it looks like it will continue in the future. The factors that led to this demographic shift in the market are growing financial stability, delayed homeownership, and increased space requirements. The Zillow report reveals that millennials accounted for more than half of all homebuyers in 2022 and are expected to continue this trend in 2023 as well.
Implications Of Market Trend For Any Realtor And Real Estate Agent
In 2023, the US housing market is expected to shift from a seller's market to a buyer's market. By November, 36 markets will be buyers' markets, 41 will be sellers' markets, and 23 will be neutral. Home sales are projected to decline by 16.3% YoY.
Throughout 2023, the average sale prices in major housing markets are predicted to stay below the average asking prices, resulting in a sale-to-list ratio below 100% for the entire year.
1. Adaptation to technological solutions
To stay competitive in the evolving real estate landscape, every realtor and real estate agent must embrace technology and leverage platforms like My Real Talk. These tools enable agents to manage their business operations efficiently, connect with clients, and navigate the complexities of the market.
2. Expert Market Knowledge
Considering the tight inventory and rising home prices, real estate professionals must stay on top of the latest market trends. By monitoring local market data, analyzing housing reports, and utilizing resources provided by associations like NAR, agents can position themselves as trusted advisors and guide their clients through the challenges of buying or selling a home in 2023.
Conclusion
The US housing market in 2023 continues to present opportunities and challenges for Realtors and real estate agents. With rising home prices, inventory shortages, low mortgage rates, etc., industry professionals must adapt to the evolving landscape.
Leveraging technological solutions like mobile apps is essential for realtors and estate agents to keep up with the evolving real estate market.
Home buying and selling are more convenient through these apps, saving significant time and effort. Users can conduct research on these apps and reach out to their desired realtor.
No wonder many home sellers and buyers are turning to apps to find their perfect home through realtors and agents in their vicinity. As per the reports, videos are the most captivating medium to attract clients' attention. Realtors and agents could share their real-time video profiles on apps like MyRealTalk App to create their branding among clients searching for them.