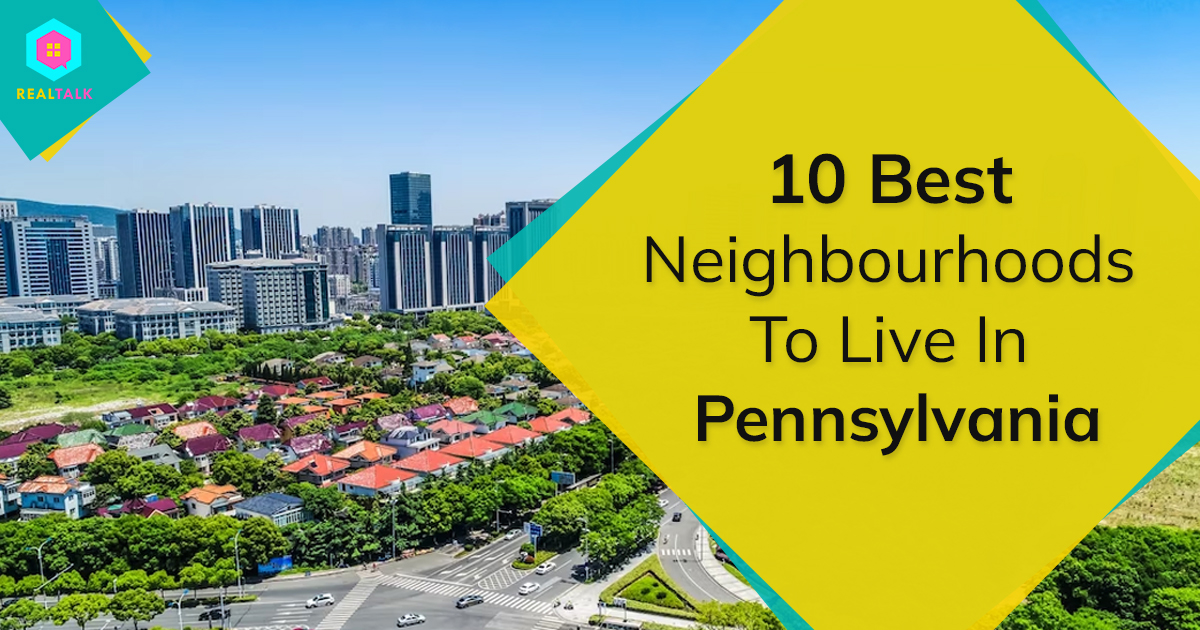 10 Best Neighborhoods To Live In Pennsylvania
Searching for the ideal neighborhood to call home is a journey filled with excitement and anticipation. As you embark on this path to find realtor to buy a house, having a reliable app like MyRealTalk by your side can save you a lot of stress. Let's delve into the MyRealTalk app and explore the best neighborhoods in Pennsylvania.
Find Property Agent Using MyRealTalk
Discovering your dream home or connecting with the perfect property agent has always been challenging with MyRealTalk. Whether you're a property agent looking to expand your reach or a potential buyer searching for the ideal Pennsylvania neighborhood, our app is your ultimate destination.
If you're drawn to on-the-go solutions or convenience, or both, our app ensures you find a property agent that suits you ideally. The app is user-friendly, and you are bound to have a seamless experience!
Pennsylvania's Top 10 Neighborhoods To Call Home
Pennsylvania's diverse landscape is home to many neighborhoods, each offering a unique blend of amenities, culture, and lifestyle. Our curated list presents the finest locales in the state, where safety, beauty, and community converge to create enchanting places to call home.
Nestled within the heart of Pennsylvania, Chesterbrook emerges as a prime contender among the most beautiful places to live in Pennsylvania. One of Chesterbrook's most alluring features is its strategic location.
Situated near major urban centers, including Philadelphia, this neighborhood perfectly balances suburban tranquility and easy access to urban amenities. This makes it an ideal haven for families seeking a peaceful sanctuary and professionals desiring seamless connectivity.
Well-planned streets, green spaces, and meticulously maintained surroundings contribute to the overall sense of security and well-being that residents cherish. You can find a huge list of real estate agents on the MyRealTalk app selling promising properties in this neighborhood.
Pittsburgh is a city that harmoniously fuses its industrial heritage with a modern cultural renaissance. While once defined by its steel industry, Pittsburgh's economy has diversified significantly. It has undergone remarkable infrastructure transformations, making it one of the most appealing metropolises for residents across the States.
Reports suggest that the public schooling system in Pittsburgh is one of the best in the USA. Besides this, it is also very rich in its culture - history, music and art!
Find a realtor to buy a house in this neighborhood because it's perfect! Johnstown offers a unique blend of suburban peace and urban amenities. Loretto, Southmont, and Geistown are popular suburban neighborhoods that complement Johnstown's inviting ambiance. These suburbs, each with its character, extend the town's appeal by offering distinct living experiences.
It's indeed one of the safest places to live in Pennsylvania. Its inviting atmosphere and the presence of quality schools, such as Bushkill Elementary School, create an environment conducive to growth and contentment.
Among its many charms, the Poconos is known for its proximity to various ski resorts, making it a paradise for winter enthusiasts and those seeking an active lifestyle year-round. The town's inviting spirit and close-knit atmosphere foster connections among residents.
Altoona is another beautiful and exciting place to consider for your dream house. It's one of the best affordable places to live in Pennsylvania. Altoona is home to Canoe Creek, a refreshing haven to swim and unwind, providing a tranquil escape from the hustle and bustle of daily life. The serene waters and lush surroundings create an ideal backdrop for relaxation and recreation.
Erie, with its alluring charm, beckons with a lifestyle that's both inviting and affordable. As per reports, it is among the top ten best and most inexpensive places for living in the USA. The place boasts several amenities ranging from entertainment to education. It's close to the city yet tucked away, offering a balance of convenience and calm.
Harrisburg's strategic location enhances its appeal. It is closely connected to New York, Washington DC, Philadelphia, and Pittsburgh, further enhancing its connectivity. This proximity makes it one of the best places to live in Pennsylvania for young professionals. Many educational, work hubs and entertainment centers are decked in place, making it ideal for those seeking a happening and exciting life.
This one is true to its name - the best place for those who love sports! The Little League World Series, a celebrated international event, transforms Williamsport into a gathering place for athletes, families, and fans from around the globe. Besides this, it also has all the amenities, including schools, public transportation, and recreational centers. It also is home to Victorian mansions, further enhancing its appeal.
Situated in eastern Pennsylvania, Allentown-Bethlehem forms a neighboring city with a somewhat liberal ethos. Allentown, in particular, exudes a historical charm that beautifully coexists with modern attractions, offering residents and visitors a diverse and enriching experience.
Allentown has embraced modernity, as evidenced by attractions like the Allentown Art Museum and the Da Vinci Science Center.
Embark on to find a realtor to buy a house since you're going to fall in love with this place! Jefferson Hills emerges as a hidden gem that offers a serene escape while maintaining proximity to urban conveniences. This charming community presents a balanced lifestyle that appeals to families, professionals, and those seeking a tranquil retreat.
Download The App Today To Find Your Tomorrow's Home
Download MyRealTalk, find the best real estate agent list, and buy your dream house! As you find your perfect place to call home, remember that each neighborhood carries a story, a spirit, and a sense of belonging. With MyRealTalk as your guide, find the perfect chapter in the story of your life within Pennsylvania's finest neighborhoods.