Finding Property Agent in 2023? Check This list of the Top Real Estate Agents in Collegeville, PA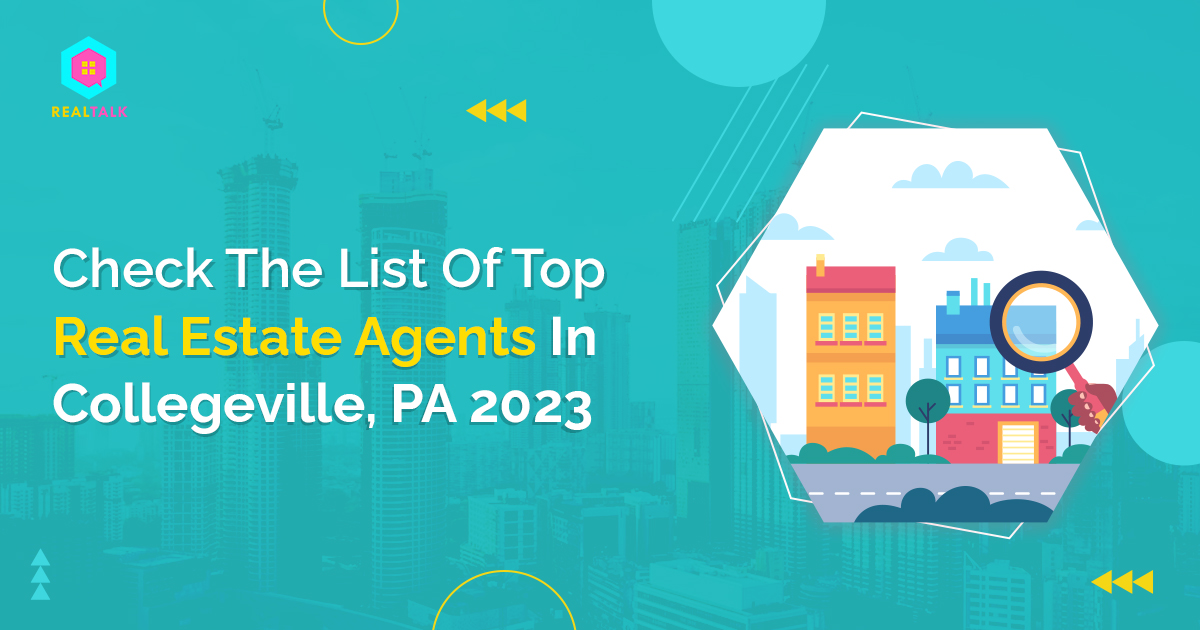 Finding Property Agent in 2023? Check This list of the Top Real Estate Agents in Collegeville, PA
To navigate the complex real estate market, it is necessary to find an agent with a solid track record of successful transactions. We understand that real estate decisions are among the most significant financial choices one can make.

MyRealTalk has gone the extra mile to compile a comprehensive list of exceptional real estate agents in Collegeville, Pennsylvania, for 2023. The agents featured in our compilation prioritize transparency, communication, and client satisfaction.
MyRealTalk App: Your Gateway To The Best Agents
Discovering these top agents has always been challenging. If you're looking for a new home, you can use online platforms to find an agent in your desired location. Mostly top agents have converged onto online platforms, ready to guide you toward your real estate goals.

Through MyRealTalk, you can find agents specializing in your desired property type, possessing unparalleled local knowledge and exceptional negotiation skills. So, your dream property, whether you're buying or selling, is just a few taps away.
Top 8 Real Estate Agents In Collegeville, Pennsylvania
1. Michael Hammond
Michael Hammond Jr. is your go-to real estate expert with immense talent in sales and negotiations for clients, which he horned after serving two decades in the auto industry. He has been associated with Keller Williams, Realty Group, Keller Williams Jersey Shore, and Keller Williams Realty Naples, where he has rewarded as the top producer status within one year of getting the license.

His business and management degrees from Bloomsburg University has polished his skills, whereas acting as a coach for other sales executive has helped him excel professionally. The start of his career at Conicelli Autoplex speaks for his excellence in the real estate domain.

He has won awards like Top Producer KW 2021, 2021 Rookie of the Year, 2022 KW Greater PA Regional Cultural Icon Rookie of the Year. He is passionate about helping his clients lay hands on their dream homes. Besides his professional commitments, he has flair for quality family time, sports and comedy. He also greatly supports Lisa's Army that aids cancer-affected children.
2. Jane Maslowski
With a career from 1986, Jane Maslowski is a distinguished figure in real estate. Beginning in State College, PA, her journey has led to annual residential sales in the multi-millions, showcasing her expertise. Beyond her seasoned professionalism, Jane holds an associate broker position and is highly regarded in the industry.

Associated with Keller Williams in Blue Bell, PA, her proficiency extends across various branches, including Elite in Wyomissing, PA, and Real Estate Center City, PA. This expansive network provides her unparalleled insights into diverse real estate market facets. Jane's focus lies in aiding relocation, first-time, move-up buyers, and investors.

Her success is evident in recurring clients and referrals, a testament to her unwavering dedication. Jane Maslowski offers expertise that exceeds expectations for buying, selling, or looking into real estate.
3. Joseph Grogan
Joe is a distinguished commercial realtor in the USA, his headquarters is in NJ. He has a robust commercial and residential investment and brokerage foundation. Joe has grand aspirations for national expansion. He focuses on dynamic growth markets driven by collaborative efforts with investors, brokers, wholesalers, and lenders.

Joe's professional journey took root at MetLife, where he thrived as an analyst in real estate and insurance. A pivotal shift led him to the private aviation sector, where he cultivated vital connections with corporate executives, particularly within the oil, gas, and mining industries.
Joe's real estate journey gained momentum in 2016 when he acquired his license. His specialization spanned residential and commercial REO transactions. By late 2018, Joe embarked on a new chapter as a business development executive for a commercial solar and construction enterprise. Distinguished by his meticulous attention to detail and relentless work ethic, Joe is one of the best Realtor USA.

4. Deanna Kozak
Deanna Kozak is a dedicated Navy Veteran with a proud service history in Naval Mobile Construction Battalion 21. Leveraging 13 years of experience, she has flourished as a full-time Realtor, carrying forward her intrinsic connection to real estate. Raised in the heart of Moorestown, NJ, where real estate runs in her family's blood, thanks to her mother's role as a broker/owner for over 30 years, Deanna's expertise is deeply rooted.

Her service extends to South Jersey and the Philadelphia suburbs, particularly emphasizing active-duty military personnel and Veterans. Deanna's passion lies in aiding active duty members transitioning to Joint Base MDL. Beyond just finding houses, she endeavors to create homes for her clients, acknowledging the gravity of this significant financial choice.
Deanna distinguishes herself by offering round-the-clock availability and guiding clients seamlessly. Upholding the Navy's core values of Honor, Courage, and Commitment, she's ready to serve both near and far, ensuring her client's real estate experiences are characterized by integrity and dedication.
What sets Deanna apart is her access to top listings on MyRealTalk App, an extensive worldwide network, and exceptional marketing strategies. You can trust her to meet your real estate goals with knowledge and care, whether you're looking for your ideal home or organizing a seamless property transaction.
5. Gary Mercer
Another dedicated real estate agent with a remarkable track record at Keller Williams Realty. Known for his swift responses, Gary brings 36 years of experience, making him a trusted partner in your property journey.

Certified as Move Safe, Gary ensures your safety and convenience throughout the process. His service extends to markets like Philadelphia, West Chester, Downingtown, and more. Gary's agent highlights speak volumes about his capabilities. His specialization in single-family homes and townhomes showcases his comprehensive understanding of the local real estate landscape.
The Gary Mercer Team of Real Estate Professionals boasts a 25-year legacy in the industry. With more than 2500 homes sold, the realtors' agents are among the top 1% being a testament to their professionalism, integrity, and customer satisfaction. As a top producer and negotiator in 2021, Gary's commitment to delivering results is evident.
6. Zachary Behr
He is a dedicated real estate professional affiliated with Keller Williams Real Estate-blue Bell. With 18 years of experience, Zachary offers rapid responses and expert guidance for your property needs.

Boasting 720 completed transactions, Zachary's prowess covers various real estate aspects, including single-family homes with an average price of approximately $304k. Certified as Move Safe, he prioritizes your safety throughout the process.
Zachary stands out in Philadelphia's competitive market. Selling properties over 52% faster than average, he outperforms the average Philadelphia agent by 4% in completed sales.
Leading The Behr Team, Zachary brings over 40 years of combined expertise to ensure a seamless real estate journey.
7. Rory Burkhart
A professional real estate agent affiliated with Keller Williams Realty- Kennett Square. With two decades of experience, Rory offers prompt responses and adept guidance to fulfill your property needs.

With around 457 transactions under his belt, Rory's expertise spans various facets of real estate, specializing in single-family homes. As a Move Safe Certified agent, he prioritizes your safety during every process step.
A standout in Kennett Square, Rory's proficiency shines as he works with 71% more single-family homes, 60 more townhomes, and 71% more short sales than the average agent in his area.
Rory's tenure at Keller Williams Realty- Kennett Square and ranking in the top 1% of agents in successfully selling homes demonstrate his prowess. And his experience extends to various areas, including Kennett Square, West Chester, and beyond.
8. Daniel Smith
An experienced realtor connected to Keller Williams Real Estate-Montgomeryville. He is a certified Move Safe agent, assuring safe transactions. His expertise includes
first-time home purchasers
, luxury residences, and investment possibilities. He adds a customized touch, ethics, and a client-centric approach to the table with his committed team, which has won him recognition as a Top Negotiator and Top Producer in 2021.
Winding Up
These listed
real estate agents
are professionals and experts with extensive experience and unmatched insight. Their guidance can be vital if you are buying or selling property. With MyRealTalk App as your ally, finding the perfect agent is a seamless experience.