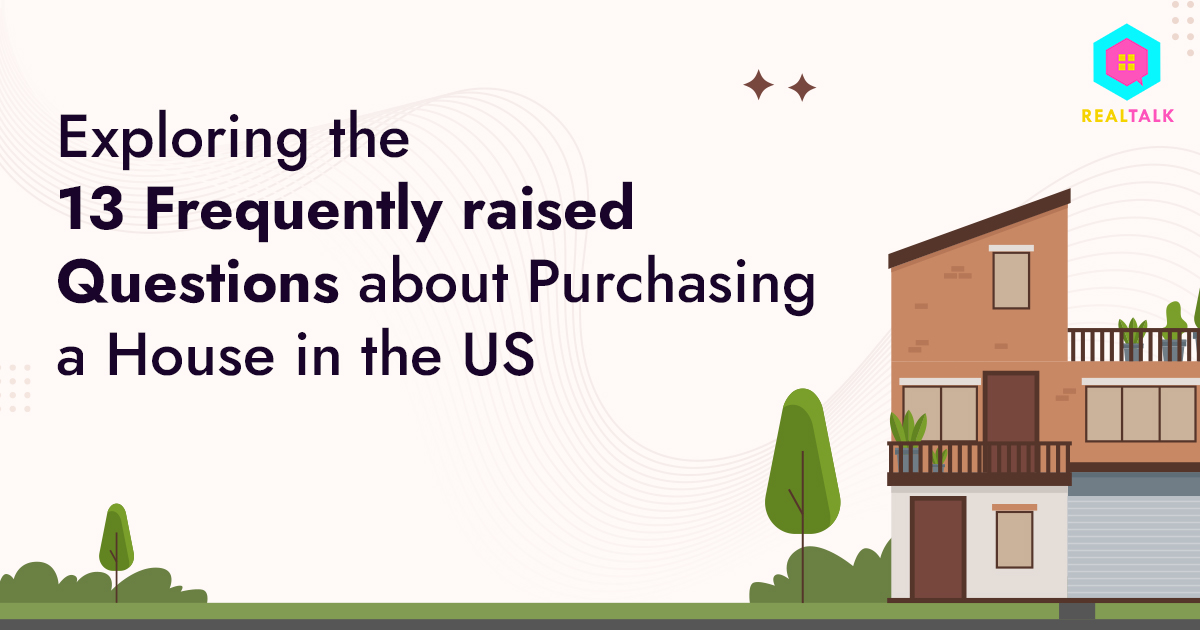 Exploring The 13 Frequently Raised Questions About Purchasing A House In The US
Tired of being bogged down by unanswered real estate questions? Look no further! MyRealTalk is here to alleviate your doubts and provide the answers you seek.
Whether you're a seasoned investor or a first-time home buyer, our platform is your ultimate source of knowledge and industry updates. We are dedicated to empowering individuals like you with the education and resources needed to make informed decisions. MyRealTalk takes you on a smoother and more informed real estate journey, answering your most frequently asked questions about real estate.
Let's dive in and find the solutions together!
1. Should I talk with a bank before looking at homes?
Absolutely! Talking to a bank or a mortgage lender before house hunting is a crucial first step. By getting pre-approved for a mortgage, you'll have a clear idea of your budget and the maximum loan amount you qualify for. This pre-approval letter demonstrates your seriousness to sellers and streamlines the buying process, giving you a competitive edge in a dynamic market. At MyRealTalk, we emphasize the importance of financial readiness to ensure a smooth and successful home-buying journey.
2. I own a home; should I buy another before selling my current home?
Buying another home before selling your current one depends on your financial situation, risk tolerance, and market conditions. You can read more about the housing market conditions in 2023 here https://www.myrealtalk.com/blog-detail/major-updates-about-the-us-housing-market-for-2023
MyRealTalk recommends consulting a real estate expert to evaluate your options before deciding on the final one. If you can manage both mortgages comfortably, it might be possible. However, some buyers prefer to sell first to avoid the financial strain of carrying two properties.
3. How do I find a real estate agent in my area?
Finding a real estate agent in your area is easier with the MyRealTalk App. MyRealTalk helps you find real estate agents that match your needs and preferences. Whether you're a buyer, seller, or investor, our tailored approach ensures you find the perfect agent to guide you through your real estate journey. With many agents registered with the app, MyRealTalk facilitates searching for your ideal agent seamlessly and in a stress-free manner.
4. Do I need a realtor to buy a house?
While it's not legally required, having a realtor by your side during home buying can be immensely beneficial. Realtors offer expertise, negotiation skills, and access to more properties. MyRealTalk advocates working with a trusted real estate agent who can lead you through every step, from property search to closing, ensuring you make well-informed decisions that align with your preferences and budget.
5. What information should I ask for when buying a house in the United States?
When buying a house in the US, asking the right questions is crucial to ensure you make an informed decision. During the process, inquire about the property's condition, the age of major systems (e.g., guttering, plumbing), and any recent renovations or repairs. Additionally, request information on property taxes, utility costs, potential homeowner association fees, neighborhood, and nearby amenities. By seeking this information, you can thoroughly assess how well it aligns with your lifestyle and plans.
6. How much money do I need to buy a home?
The money required to buy a home varies based on factors like the property's price, down payment, and closing costs. Typically, down payments range from 3% to 20% of the purchase price. In comparison, closing costs can be around 2% to 5%. There are also two 0% down payment loans being the VA loan and USDA. That's why having a Realtor that knows the best options for your financial situation is crucial.
Additional expenses, including moving costs, home inspections, and ongoing payments for insurance and property taxes must also be considered. Consulting a lender can help determine the required amount based on individual financial situations and the purchased property.
7. Can I buy a home with no money down?
While buying a home with no money down is challenging, specific government-backed loan programs, such as VA loans for eligible veterans and USDA loans for rural areas, offer low or zero-down payment options.
If you are an active-duty service member, military veteran, part of the National Guard, or the surviving spouse of a deceased veteran, you may be eligible for a VA loan. To qualify for a USDA loan, both your home and you must meet specific criteria, such as the property must be located in a rural or suburban area and cannot be a working farm and so on.
8. What's the best mortgage for a first-time buyer?
As a first-time buyer, selecting the right mortgage is crucial for a successful home purchase. FHA loans that offer lower down payments and more lenient credit requirements are popular choices. Additionally, conventional loans and special first-time buyer programs are also worth considering.
You can contact reliable realtors through the Real Talk app (MyRealTalk), they will help you in choosing the best mortgage option and simplifying the process.
9. What credit score do you need to buy a house?
Mortgage lenders evaluate your credit score to measure your responsible debt management. A higher credit score improves your chances of home loan approval and can secure more favorable terms, including lower interest rates. The minimum credit score required for buying a home depends on the type of mortgage you're seeking. For a conventional mortgage, the typical minimum score is around 620, while government-backed loans may accept scores as low as 500.
10. What do I need to do before buying a house?
Preparing before buying a house is essential for a smooth transaction. A comprehensive checklist to guide you through the preparation process includes checking your credit score, saving for a down payment, getting pre-approved for a mortgage, researching neighborhoods, and creating a list of must-haves. You can contact the best realtors through the MyRealTalk app, who can assist you in buying a home that suits your needs.
11. How much time does it take when i buy home?
The time it takes to buy a home in the USA can vary depending on several factors. On average, the process may take anywhere from 40 to 50 days or more. The timeline includes house hunting, making an offer, negotiating, conducting inspections, securing financing, and completing the closing process. Delays can occur due to factors like market conditions, the complexity of the transaction, or any contingencies involved. Preparing for potential hiccups is essential to ensure a smooth and timely home purchase.
12. Do I have to pay any hidden costs while buying a home?
When buying a home in the USA, be aware of potential hidden costs like closing costs, home inspections, repairs, and renovations. Additionally, budget for ongoing expenses like property taxes, homeowners association fees, and home insurance. Working closely with your real estate agent and reviewing closing documents will help you understand all costs and avoid surprises. Being prepared and budget-conscious ensures a smooth home-buying process.
13. How to select a suitable location for buying a new home?
Selecting a suitable location for buying a new home is vital for your satisfaction and investment. With the MyRealTalk app, you can access listings from various locations, enabling you to choose based on your needs. Also, it gives you a broader range of options. Whether it's proximity to schools, work, amenities, or future development plans, MyRealTalk helps you find the perfect location and the real estate agent who can help you buy it.